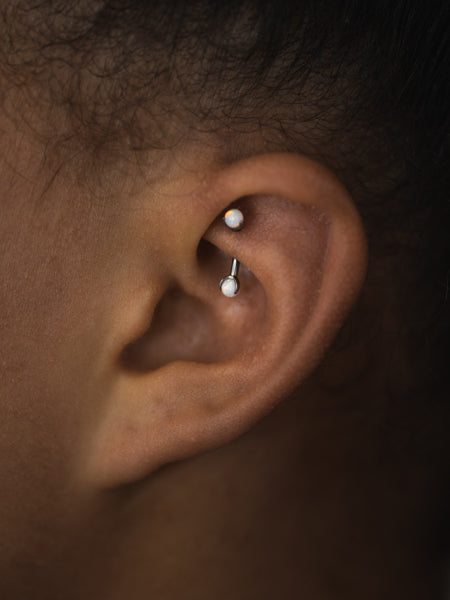 GRIFFED BANANANE / White OPALE
Paiement en 2 ou 3 fois à partir de 80€
Opt for this great classic obsidian: the scratched banana and its white opal stone. The most complicated will be to choose your stone. But one thing is sure is that you will love wearing this jewel.
The length of the bar exists in several sizes and is ideally placed on: arcade - vertical labret - rook


This banana composed in ASTM-F 136 grade titanium is set with a natural stone

The size of the balls is 3mm and the 1.2mm banana is with internal screwing
Très beau
Il correspond exactement à ce que je souhaitais, un piercing de qualtité, j'en suis très contente
Piercing de très bonne qualité et vraiment très joli 👍.
J'ai commandé en 8mm de long et cela convient parfaitement.
Le rendu est très joli, surtout que cela s'accorde bien avec les autres que j'ai déjà commandé sur ce site 👍
De prime les envois sont très rapides et super soignés 😁
Commande reçu en retard par rapport au temps indiquée (corona + deuxième confinement sont peut être la cause) En tout cas bon produit de bonne qualité. Je suis ravis, les piercing son de très bonne qualité pour un prix raisonnable et qui dépasse pour la plus part la concurrance (bien sur si vous payer des bijoux de mauvaise qualité vous trouverait cela cher). Mon tragus et mon rook son bien habiller du coups avec leur petites pierres. Ravis de mon achats, première commande mais pas la dernière pour ma part. Je recommande si vous hésitez, n'hésitez plus !